The opening titles of Watchmen, set to Bob Dylan's The Times They Are A-Changin', serve as both prologue, and multiple meta-references to a skewed history of the 20th Century, ushered in by real-life costumed crime-fighters.
The sequence incorporates floating titles over director Zack Snyder's stylised time lapse slide show, spanning the 1930's to 1985. Vintage vigilantes step out of the shadows, ushering in a new atomic age of grimmer, cold war "hooded justice". Snyder said:
"From the very beginning, I wanted to do a cool title sequence for the movie…I literally went to the beginning of the movie and started drawing (storyboards). I was pretty positive it was going to be (to) The Times They Are A-Changin'. Then it started to take shape for me as we really find out where we are in the world, and that's how that sequence came about, tracing the alternative history."
Animation and  titles company yU+Co had to then integrate titles into this six minute sequence in an organic fashion. Adapting the yellow of the original strip's title, they had typography float in 3D within each short scene. Almost every vignette features photography or a television, cementing the incorporation of these heightened characters in a changing world, sometimes altering already well known iconic moments in history.
One of the most obvious is Sally Jupiter's image painted on the aircraft that drops the A-bomb on Hiroshima, instead of naming it Enola Gay. At one point Snyder had intended The Comedian to hoist Old Glory over Mt Suribachi in Iwo Jima, instead of the Marines.
I love the cleverness in altering the famous VJ Day celebration photograph in New York's Times Square, where Silhouette replaces a sailor kissing a nurse. The real photograph was taken by Alfred Eisenstaedt. He had his eye on a sailor (in black uniform) weave down the street, kissing every woman in his path. Eisenstaedt focused on a white uniformed nurse, and, sure enough, the sailor kissed her, providing a perfect contrast in the sea of bodies and ticker tape.  In the titles, Silhouette's black clad frame replaces a white uniformed sailor, who starts toward the nurse then weaves away.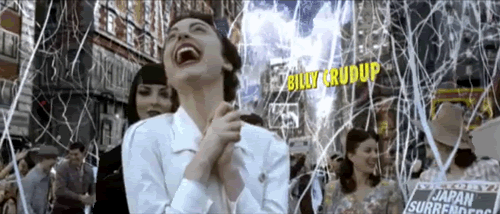 Shorty afterward, images perfectly match Dylan's admonishing lyric – a crime scene photographer flashes on the unfortunate women, brutally murdered in their bed, "lesbian whores" scrawled in blood on the wall. The lyrics plead, "Don't criticise what you don't understand."
Then of course there is the later incorporation of the Watchmen into pop culture – Andy Warhol unveiling his Nite Owl  piece in place of Marilyn Monroe; Ozymandias hobnobbing with Jagger and Bowie at Studio 54.
It is the very beginning that seems almost prescient for Snyder, currently directing the new Superman Vs Batman. As the first Nite Owl punches out a stick up man, a well to do couple exit the back door of "Gotham Opera House", showing a production of Die Fledermaus – the very production Christopher Nolan chose over Zorro for a young Bruce Wayne and his parents to go see on a fateful night in his Batman Begins. To add a further meta-twist and wink, pasted to the wall are posters for Bob Kane and Bill Finger's Batman #1. The suggestion is that Nite Owl replaces Batman, as young Bruce Wayne is never orphaned.
Here is the opening sequence:
Originally posted 2014-05-14 16:04:38. Republished by Blog Post Promoter